Lead generation and sales prospecting techniques. Tips and ideas for finding B2B sales leads through referrals, introductions, and business networking.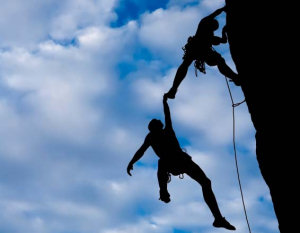 GDPR is focusing attention on alternative sales prospecting techniques. Whether your practices would fall foul of the iminent adoption of GDPR law or not, now is a goot time to review your habits and practices or procedures and governance. 
Every so often even the best salespeople and most succedssul sales operations should review their lead generation and sales prospecting techniques.
Perhaps you have experienced a lead famine. Your pipeline drains away fast and it doesn't take long business levels to follow.
Perhaps for you, things haven't gone pear shaped before and you are reading along just for the ride. I hope you never find yourself with no other option but cold approaches for lead generation.
There are better ways and more palatable alternatives to randomy approaches to poory qualified suspects.
The best of all the sales prospecting techniques that I know of is to get introduced 
Three ways of engineering an introduction:
Have someone in the decision maker's organisation introduce you. Research indicates that decision makers are much more likely to agree to meetings with salespeople when they have been introduced by a trusted colleague, team member, or peer. 
Have someone outside the decision makers organisation introduce you. The same research suggests that the next best way to get a hearing is to arrange an introduction from a third party such as consultants, business partners, customers, or suppliers of the prospect. You don't necessarily need to know the person making the introduction. See 'Get Introductions from People you Don't Know' for more.
Attend the off-site events attended by the decision makers you want to meet. Once again, research backs up the idea that senior people are much more likely to take a sales call from someone whom they have previously met.
If you want to make better use of time at events, these tips make a difference:
When meeting prospects informally, do not sell. Do not use your elevator pitch. Do not be tempted to speak of what you do except to the minimum degree necessary to satisfy polite enquiry.
Some of those you meet might lure you into a work discussion. It is good to let them talk. Encourage it, even if their discourse is boring. Be interested, be very interested. Dale Carnegie wrote, "if you want to be interesting, be interested". No matter how one sided the conversation, resist the urge to present your wares.
Be polite and very brief about your stuff. Listening is something we can all improve. I can think of several occasions when my listening patience wasn't good enough. The lessons were almost always expensive.
If you are drawn into speaking about your products or services in any detail while at a social event, you lessen your chances of an audience later. Maintain some mystery at all costs. If someone is insistent, make an appointment there and then for a formal business meeting.
The great thing about meeting executives informally is that, on average, they will be eleven times more likely to take your call afterwards. Ask the senior executives you know for an opinion on this claim. 
Improve sales prospecting techniques and maximise results by investing in forethought, planning, and preparation:
Forthought
Consider the events that you will attend or how to get an invitation to events that your prospects are likely to attend.
Set aside some time to think about who you want to meet at the event and what questions you can ask that will be interesting to them. 
It is in your interests to do most of the listening. Consider how you will put people at their ease and encourage them to speak freely. 
Planning
Dicide who you will try to meet at the event and how you will approach them. Make a written plan to structure your time at the event.
Note which professional associations, institutes, networking clubs, or user groups each person favours. Google and LinkedIn make this easy..
Note the reasons you will give for wanting to meet them. Connect with somthing to do with their work, something they have written, or a genuinely shared passion.
Preparation
Memorise the names of the people who you hope to meet at the event.
Rehearse questions that explore the insights you have about the opportunities and challenges of the people whom you want to meet.
Prepare questions that seek opinions about relevent news, events, and trends. 
Get Introduced
You may not have the good fortune of knowing someone who knows the person you want to meet. Just ask anyone who does. It is usually quite easy to make new contacts at informal business gatherings. Pick someone on the periphery a group and introduce yourself. Build rapport while making small talk and then ask for the introduction you are seeking. You know how to make the right kind of plea; you've seen it in the movies.
Introduce Yourself
All you need is a minute of conversation. Recognise the person by saying, "aren't you . . ." then briefly explain how you know of them and ask an interesting question. For non celebrities, this is very flattering and is certain to cause them remember the encounter. 
If the people you want to meet don't attend the events that you can, invite them to your event.
Alternatively, obtain an invitation to events that those you want to meet are expected to attend.
Many businesses invest in event sponsorship and corporate entertainment to provide their staff with opportunities to build relationships. The return on the investment can be meagre if sales staff don't maximise the opportunity to connect with those who attend.
"You can discover more about a person in an hour of play than in a year of conversation." The Greek philosopher Plato is credited with this saying,
As a sales prospecting techniques go, perhaps cold calling is not so bad! At least it is immediately accessible and you overlook the need for forethought, planning, and preparation.
Article by Clive Miller
Related Articles:
Related Courses:
If you are looking for sales prospecting techniques, business networking tips, or ways to increase sales lead generation, we can help. Telephone +44 (0)1392 851500 for more information. We will be pleased to learn about your needs or talk through some options. Send email to custserv@salessense.co.uk for a prompt reply or use the contact form here.