Comprehensive telesales skills assessment for inside sales and telemarketing staff.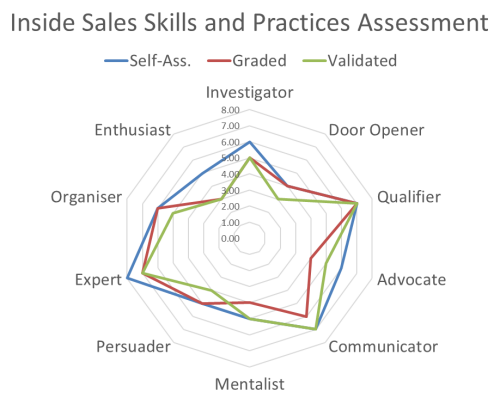 Rate inside sales and telesales skills against thirty statements and ten aspects of competence. Use our telesales skills assessment to identify strengths and weaknesses, opportunities and threats. Use the coach feedback to guide training, plan study, drive development, or inform selection.
Suitable for inside sales and telesales staff who are responsible for sales prospecting.
Assessment feedback is accompanied by aligned workplace actions that develop skills while advancing sales opportunities and increasing the likelihood of success.
Career Development
If you are applying for inside sales or telesales roles, take this assessment to prepare for interviews. If you already have an inside sales job, take this assessment to increase your results, success, and earnings.
Sales Team Building
If you are leading a telesales or inside sales team, use the assessment to stimulate learning, guide development, assess training needs, or inform selection.
Contact us or call +44 (0)1392 851500 to discuss group options.
Aspects Assessed:
Expert
Investigator
Door Opener
Qualifier
Mentalist
Communicator
Persuader
Deal Maker
Organiser
Applications Include:
Telesales assessment.
Inside sales skills assessment.
Sales skills development guidance.
Guidance for coaching.
Training needs analysis.
Recruitment and selection.
Career development.
Sales Qualification Assessment, Grading, and Validation Options
There are three levels of sales qualification possible from completing the assessment. They are self-attestation, a SalesSense grading certificate, and a SalesSense validation certificate. All three qualifications include evidence of sales competence, compiled from the assessment completion.
Charted and tabulated results together with our Sales Professionals Toolkit is provided to all who complete the assessment.
Grading is based on answers to a secondary set of verification questions and includes coach feedback on all ten aspects of the assessment.
The third level is validation is based on a 90 minute structured telephone interview with a SalesSense coach who then provides a detailed personal feedback report.
If you are looking for an inside sales or telesales skills assessment or need to conduct training needs analysis, this assessment provides a reliable solution. For more information telephone +44 (0)1392 851500. We will be please to learn about your needs or talk through the options. Send email to custserv@salessense.co.uk for a prompt reply or use the contact form here.