Sales frameworks - shortcuts for bridging the experience gap, learning sales methods and developing skills.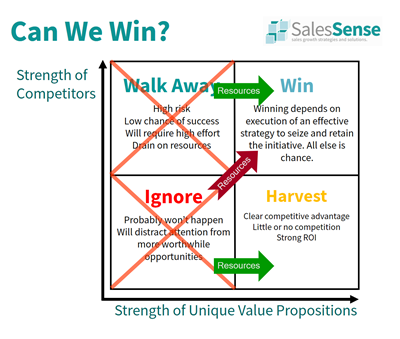 We use the term, 'Sales Frameworks' to describe a set of tools that we use to teach the sales methods and skills employed by top performers.
If you are looking for ways increase overall effectiveness or improve sales process, this page may be more relevant.
The models or representations help newer salespeople compensate for lack of experience and enable them to become productive sooner.
The frameworks are simple enough to memorise yet offer access to the insight and judgment of veterans.
No two situations are the same. The most successful sellers are those who adapt their approach to meet the needs of each opportunity and situation. Having a framework helps less experienced people recognise and adopt the best sales methods.
Frameworks are based on the the behaviours of top performers. Less experienced staff can approximate best practice from the representation and emulate successful techniques without first acquiring equivalent intuition and judgment.
Using the framework models in training accelerates comprehension. The frameworks provide thinking tools that focus attention on the right things. They focus attention, stimulate thinking, and improve judgment.
Examples of framework representations used in training and coaching
Bidding to win.
The customers buying process.
Qualification - is there and opportunity?
Qualification - can we win?
Qualification - will it be worthwhile
The impact of intrinsic motivation.
The benefits of coaching. 
Structuring important messages.
Making failure productive.
Achieving customer loyalty.
Leveraging the changing phases of learning.
Aligning learning motivations.
How negotiation changes over the sales process.
The impact of planning.
Problem solving strategies.
How to use reverse psycholgy.
Thinking from another minds perspective.
Recognising decision maker personas.
Differentiating decision maker roles.
Recognising leadership styles.
The impact of sales knowledge.
The impact of sales process.
Channel sales partner distinctions.
The power of stories
Decision Maker Focus
Creating a compelling value proposition.
Aligning work motivators.
Adapting for different personalities.
Understanding decision making styles.
Characterising relationship standing.
Establishing a common buying vision.
Identifying competitive strategy.
See 'Bridging the Sales Experience Gap' for a detailed example.
Experienced salespeople can use the frameworks to explain and communicate their expertise. New salespeople gain an instant appreciationn for the issues involved.
This approach is a powerful teaching aid that enables students to learn sales methods and skills from others and avoid having to repeat mistakes. Sales frameworks provide an easy way to  to learn and a short cut for acquiring the wisdom of experience.
If you are looking for effective sales training for individuals or groups or need to improve sales methods or sales skills, we can help. Call +44 (0)1392 851500. We will be pleased to learn about your needs and talk through some options. Alternatively Send email to custserv@salessense.co.uk for a prompt reply or use the contact form here.