Sales manager assessment for 
evaluating management practices

.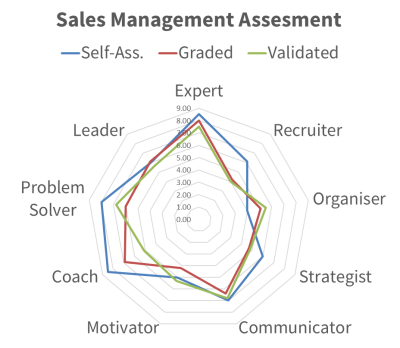 Score sales management practices and skills. Complete this sales manager assessment in ten minutes or less to reveal improvement opportunities.
Use the results to support appraisals, training needs analysis, development, selection, and succession planning.
The assessment speeds up learning, verifies competence, and identifies improvement opportunities. It reveals strengths and weaknesses and illuminates vulnerabilities. The feedback guides training and development.
Optional responses grading or comprehensive coach validation and review, offer third party corroboration and coaching support.
Aspects of the Assessment:
Expert - knowledge about the products, services, and solutions being sold.
Recruiter - ability to find, select, and recruit effective salespeople.
Organiser - how well important aspects of sales management are organised.
Strategist - use of strategy in planning and co-ordination.
Communicator - interpersonal skills for directing and inspiring staff.
Motivator - understanding and application of motivation.
Coach - ability to help staff develop through one-to-one interactions.
Problem Solver - empowering and enabling others solve the problems.
Leader - Setting expectations and causing people to exceed them.  
Assessment Applications Include:
Sales manager appraisals.
Providing manager development guidance.
Sales management training needs analysis.
Preparation for interviewing sales managers.
Selecting the right sales manager candidates.
Career planning for aspiring sales leaders.
Succession planning.
Sales Manager Assessment Includes
Tabulated and charted results.
Consultant feedback.
Development recommendations.
£39 plus applicable VAT - Add to cart
Optional Assessment Grading and Validation Services
Complete associated substantiation questions and have responses graded by an accredited coach. 
Ratify results and receive comprehensive written feedback based on a ninety minute one-to-one validation interview.
If you are looking for a sales manager assessment or need to assess sales management skills, we can help. Telephone +44 (0)1392 851500 for more information. We will be pleased to learn about your needs and talk through the options. Send email to custserv@salessense.co.uk for a prompt reply or use the contact form here.