Increase standing and business through key account management training.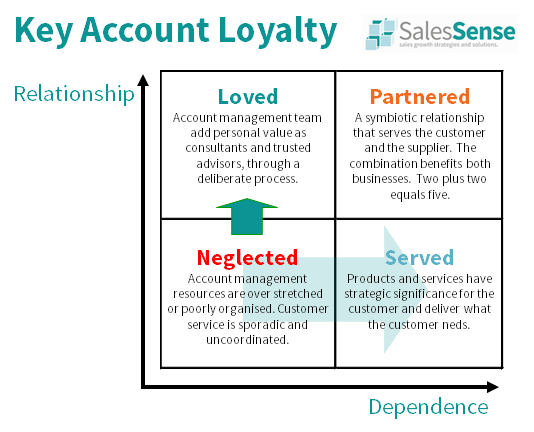 Protect high value repeat business from important customers. Take this Key Account Management training course to elevate standing, strengthen relationships, and maximise sales.
When the loss of one or two major customers could threaten survival, key account management becomes a critical function.
Key Account Managers must do more than provide good service. They must establish regular communication with those who make executive decisions, as well as the people who use what is sold. They must become part of the customers success. 
In addition to establishing trusted advisor status with senior executives, key account managers must develop and maintain a perception of strategic value. Otherwise, sooner or later the business will be lost to a competitor or eliminated by an unexpected executive decision.
Key Account Management Training Objectives
Extend understanding of the customer's business.
Establish trusted advisor status with customer executives.
Understand customer politics and organisational dynamics.
Learn to predict organisational change.
Expand relationships across divisional and departmental boundaries.
Improve team communication and reduce or eliminate mistakes.
Establish or develop strategic partner status.
Increase certainty and forecast accuracy.
Maximise share of mind, sales revenue, and profit.
Anticipate and counter the efforts of competitors.
Reduce sales cycle times.
Key Account Management training helps account managers maximise sales opportunities and protect business from competitors.
Throughout the course, participants apply principles and methods to real account situations and develop a unique account plan that guides ongoing use of learning in the workplace.
Learn new ways to maximise customer benefits, address all the possible business, keep competitors out, and gather invaluable feedback. Establish personal status as a trusted advisor and organisation status as that of strategic partner in important customer accounts.
Who Should Attend:
Experienced key account managers (also referred to as global account managers, strategic account managers, and major account managers) and people in their support team. Others who regularly participate in key account sales including line managers, bid team members, marketing, and technical staff. This course is suitable for large account management training and globall account management training.
Additional Benefits
Flexible multi session 'learning by doing' training options.
Workplace assignments that develop new habits and practices.
Tools, templates, frameworks, and examples that save time and aid learning.
Adopting a common language improves communication and teamwork.
Training increases adoption of 'best practice' habits and methods.
Training increases sales productivity, consistency, and results.
Professional development improves job satisfaction and motivation.
Increasing know-how and expertise reduces staff turnover.
Key Account Management Training Delivery Options
Use this link for more information or to have us call you.
Large Numbers
Licensing and train the trainer options enable self delivery. To find out more, call or use the links below. Associate and Affiliate representation welcomed. To promote or deliver this course, get in touch directly.
Want Something Different? Please Ask:
If you are looking for a key account management training program or need to protect major account business, we can help. Telephone +44 (0)1392 851500. Alternatively use the contact form here or send email to custserv@salessense.co.uk.